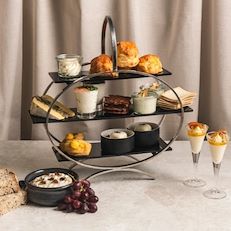 High Cheese
P.S.A. for all cheese lovers!
High Cheese
P.S.A. for all cheese lovers!
Winter Blues Brie Gone - High Cheese is our cheesy twist on high tea has returned to The Lobby Lounge. Collaborating with friend and premier cheesemonger Anthony Femia of Maker & Monger, Executive Chef Michael Greenlaw has created the perfect menu to help you get through the colder months. High Cheese serves up three tiers of sweet and savoury treats with cheese as the star ingredient. Grab a friend, family member or cheese lover and head to the Westin and indulge in the cheesy gouda-ness.
High Cheese will be served daily from 11am - 8pm in the elegant surrounds of the Lobby Lounge.
$98 per person including free-flowing Vittoria Coffee blends, JING Tea herbal infusions and hot chocolate.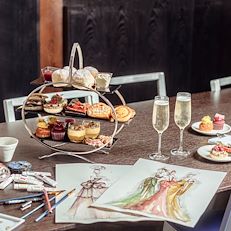 Artea
Artea
Gather your gang and get 'Artea' on a Sunday afternoon as you let your creativity flow whilst you indulge in high tea.
Merging high tea and art for an afternoon of fun in the heart of Melbourne. Artea ia a series of creative classes commencing in March where you can get crafty and hands-on learning a new skill whilst enjoying three tiers of seasonal high tea treats.
It's perfect for a bridal shower, baby shower, girls day out, a post lockdown celebration or just a 'Sunday Funday' activity.
May & June
Join esteemed illustrator Estelle Michaelides as she shares her knowledge and skills in the art of fashion illustration. You will be taught techniques to create your own watercolour masterpiece whilst indulging in three tiers of delicious high tea treats.
Estelle is a highly respected Melbourne artist @the.bespoke.illustrator and designer of local label Micky in the Van, whose work celebrates the old school beauty and grace of fashion illustration.
The beauty of watercolour comes from the transparency of the paint and the free flowing nature of it which quite often takes on its own life. The result is ethereal, rich and captivating.
Time:
1.00pm - 3.00pm
Artea Class Dates:
Sunday, May 23
Sunday, June 20
Tickets are $150 per person and include a 2-hour fashion illustration workshop and all materials, high tea, free-flowing Chandon NV Brut or Rosé, coffee and herbal tea infusions. Plus you will walk away with your own illustration to keep and proudly display.